Robert Lee "Chicago Bob" Nelson was born July 4, 1944 in Bogalusa, Louisiana. At age 8, Bob began playing harmonica and in his teens, Bob was tutored on harmonica by family and friends including blues legends Slim Harpo and Lazy Lester. As a child, Bob spent his summers at an aunt's house in Chicago and eventually moved there in the early 1960's. Chicago is where he met and performed with Howlin' Wolf, Earl Hooker, Buddy Guy, Junior Wells and Muddy Waters. In fact, Muddy gave Bob his nickname "Chicago Bob." Bob would later perform with Muddy Waters at the Newport Folk Festival.

Over the years, Chicago Bob toured with Luther "Snake Boy" Johnson, Tinsley Ellis and was in John Lee Hooker's touring band for the last years of Hookers life.
His amalgam of Louisiana Swamp and Windy City Blues creates a matchless sound that is full of the driving energy of both genres and is truly all his own. Chicago Bob Nelso performs blues the way it was meant to be - authentically and from the heart.
Backed by the King Bees, founded by Hound Dog Baskerville and Queen Bee Zamagni in 1987, have toured and recorded internationally with such blues luminaries as Carey Bell, Jerry McCain, Nappy Brown and many others. This recording reflects years of the collaboration with Chicago Bob. www.myspace.com/thekingbeesblues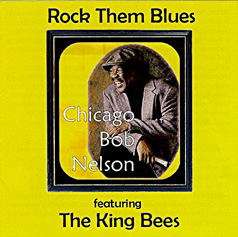 Seasoned music reviewer,
Ron Weinstock, had some great things to say about
"Rock Them Blues." Check out his review here.
LIVING BLUES magazine's
Readers Poll Nominee
"Best Harmonica Player"
Chicago Bob Nelson
featuring The King Bees
"Rock Them Blues "
BUY MP3 TRACKS

1 Locksmith Blues.mp3

2 Quit You Pretty Baby.mp3

3 Too Close Together.mp3

4 Think It Over.mp3

5 Goin' In The Valley.mp3

6 Rock Them Blues.mp3

7.Comin' Back Srong

8.Bus Drivin' Woman

9.Dream Girl

10.Car Telephone

11.Juke Joint

12.Sloppy Drunk
CD PRICE $11.99
Please purchase CDs separately from mp3s.
After purchasing mp3 files througn paypal, you will automatically be returned to a file download page.